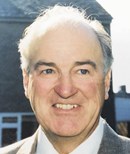 IN MEMORIAM: AOC Mourns the Passing of Dr. Alfred Price
One of our earliest members who joined the AOC in 1977, Dr Alfred Price, passed away 29 January after a long and brave battle with Parkinson's. UK Chapter Secretary Roger Hannaford recalls "Sqn Ldr Dr Alfred Price served as an Air Electronics Officer (AEO) in the RAF. After training on one of the first AEO courses, which were designed to provide the extra skills and knowledge for the new electric and electronic systems entering service, he flew mainly on Vulcan and EW Canberra aircraft amassing more than 4,000 flying hours. As an instructor on the Vulcan Conversion Unit, he played a key role in developing RAF EW. His first and very influential, book, now regarded as a standard work of reference, was
Instruments of Darkness
, which was based on the official Secret history of radio countermeasures in WWII.
He left the RAF in 1974 to become a full-time writer on aviation subjects and the subsequent 40-plus books and numerous magazine articles were the result of detailed original research, including interviewing key figures involved in the UK, US and Germany. Among his many important contributions to the genre was his three-volume
History of US Electronic Warfare
, specially commissioned by the Association of Old Crows, and a series of half-page EW historical events to support advertisements in the Old Crows magazine. Alf, as he was called in the service, becoming Alfred when he began writing and was known as Freddie by his family in later life, held a PhD in history from Loughborough University and was a Fellow of the Royal Historical Society.
Read Obituary from Legacy.com
---