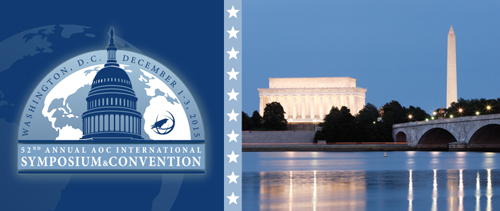 IN TWO WEEKS! Register Now for the 52nd Annual AOC International Symposium and Convention
December 1-3 | Marriott Marquis and D.C. Convention Center, Washington, D.C.
Register Today
Housing Information
Electromagnetic spectrum (EMS) dominance in the future will require that we synchronize EW and cyber to achieve spectrum dominance. The U.S. Department of Defense, along with its industry partners, faces an uncertain global security environment driven by adversaries who recognize that the EMS has become vital to the success of their campaigns. Adversaries are aggressively fielding electronic warfare systems and cyber systems/technologies that significantly erode DoD's ability to use and control the EMS while conducting military operations. During this year's symposium, we have 12 sessions set up to examine various aspects of the evolving EW and cyber strategic relationship and how they impact the EMS.
CALL FOR VOLUNTEERS
Want a complimentary registration to the 52nd Annual AOC International Symposium & Convention? You can get it! One of the reasons the AOC has been able to run such great events is that we receive such fantastic support from volunteers in the Electromagnetic Warfare community. The 52nd Annual AOC International Symposium & Convention is one of our largest undertakings ever, and volunteers are eligible to have their registration fees waved. There are lots of ways you can volunteer – for more information on how and the requirements for complimentary registration,
check our volunteer opportunities here!
KEYNOTE AND MAJOR SPEAKERS

Gen. John Hyten

, Commander, Air Force Space Command, Peterson Air Force Base

Air Commodore Madelein Spit

, Royal Netherlands Air Force, Chief NATO Air Force Armaments Group


Gen. Michael Hayden (Ret.)

, former Director of the National Security Agency, Principal Deputy Director of National Intelligence and Director of the Central Intelligence Agency

Lt. Gen. David Deptula (Ret.)

, former USAF/A-2

Lt. Gen. Bradley A. Heithold

, Commander, Air Force Special Operations Command

Mr. Robert Stein

, Senior Fellow, U.S. Defense Science Board (DSB)

Dr. Mark Maybury

, CTO, MITRE and former AF Chief Scientist

Dr. William Roper

, Director, Strategic Capabilities Office at the Office of the Secretary of Defense

Dr. Thomas Kennedy

, Chairman and CEO, Raytheon Company

Ms. Michele Weslander Quaid

, Chief, Innovation Evangelist, Google, Inc.
Symposium Agenda
Exhibit Hall Show Hours
Tuesday, December 1: 4 p.m.-7:30 p.m. (with reception)
Wednesday, December 2: 1 p.m.-6 p.m. (with lunch and reception)
Thursday, December 3: 10 a.m.-2 p.m. (with lunch)

SUPPORT

STEM

WITH A STATIC DISPLAY!
In recent years, STEM Education has become an imperative and worthy initiative in the United States. The AOC is joining this cause, starting with its inaugural STEM program. The high school and college students attending this event are at a pivotal point in their education, allowing us the opportunity to capture their interests in STEM subjects and potentially inspire them to continue into careers in these essential fields.
Help us inspire these STEM students – the future innovators, inventors and leaders of this nation – to become Spectrum Warriors and Young Crows. We are seeking cool static displays the students can see and touch. If you can provide a display, please contact Pamela Wallace, wallace@crows.org.
STEM sponsorship opportunities
Convention Host

---