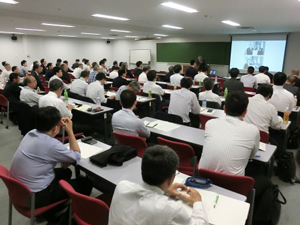 The AOC Japan Chapter Hosted the 4th EW Research Group Conference on April 24 in Kikai-Shinko-Kaikan, Tokyo. It has been co-sponsored by the IEICE (The Institute of Electronics, Information and Communication Engineers) Japan, Technical Committee on Space, Aeronautical and Navigational Electronics (SANE).
The EW Research Group of the AOC Japan Chapter is established to promote the exchange of new ideas and information, and the dissemination of the new research and knowledge in the fields of Electronic Warfare throughout the Japanese industry, academia and government. This aim is accomplished through technology conferences enabling Japanese and friendly nations' researchers to discuss the EW issues.
At the conference, AOC Japan Chapter President Mr. S. Kazama, AOC Lifetime Service Award recipient, welcomed the 70 attendants from Japanese industries, academia and government.
The keynote speech was on the Communication Electronic Warfare Technology, Basic and Practice. It was followed by the technical session presentations. At the conference, the newly published Japanese version (Tokyo Denki Univ. Press) of "EW103" (originally by David Adamy, Artech House) was presented and sold by the publisher booth.
---