Print this Article | Send to Colleague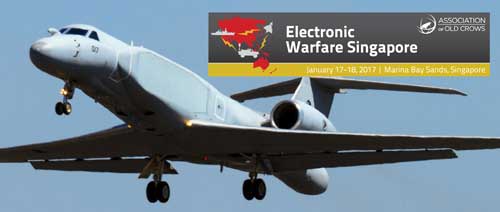 REGISTER NOW: Don't Miss AOC Electronic Warfare Singapore, January 17-18
We live in a time of increasing uncertainty on many fronts. Threats, challenges and opportunities are rising. Technology is accelerating. The world is undoubtedly changing and in unforeseen ways. In terms of future warfare, national forces are being re-shaped and re-equipped to face an operational maneuver space that will be complex and connected, but constrained. It may well be chaotic unless the right, informed choices are made now. The Asia-Pacific region is one of the most vital areas in the world and the focus of much change, but also of uncertainty. In terms of EW and electromagnetic operations, how can we make sense of all of these things?
AOC EW Singapore will consider the future of EW and EM Operations in the changing light of current and emerging threats, including Hybrid Warfare and Anti Access/Area Denial (A2/AD) where potential opponents are out-performing the West. It will consider the possible responses, how thinking and attitudes must change, and examine the new capabilities that will be required across all lines of development, by all services, in all countries in the free world. The Conference will consist of plenary sessions focusing on operations, defence capability development, and industry inventiveness. AOC EW Singapore 2017 will bring together the communities of EW, SIGINT, C4ISR, Cyber EM Activities (CEMA) and more. Speakers will include leaders and operators from the military, government, academia, S&T and international R&D communities and, crucially industry. This is an unclassified English language Asia-Pacific focused EW networking, exhibition, workshop and conference and is not to be missed.
Speakers include:
Professor David Stupples
, Professor of Electronic & Radio Systems, Director EW Systems Research, City University London, UK
Daniela Pistoia
, Corporate Chief Scientist, Elettronica SpA, Italy
Colonel Stephen Miller USAF (Ret.),
Senior Research Engineer, Strategic Program Development Lead, GTRI, US
Rear Admiral Simon Williams
, Chairman, Clarion Events, UK
Dr Sue Robertson
, AOC International Region 1 Director, UK
More Details...
View the Current Agenda
Register Now
---