What's New
Keynote Speakers Announced!

Defining IO/Cyber Spectrum Operations Conference
,
November 30-December 2
Rear Admiral Edward H. Deets, III


Commander, Naval Network Warfare Command
Rear Admiral Kendall L. Card


Director of Concepts, Strategies & Integration for Information Dominance (OPNAV N2/N6)
Vice Admiral "Mike" McConnell, USN (ret.)


2nd Director of National Intelligence / 13th Director of the NSA
Mr. Mark H. Johnson, SES


Director, Joint Information Operations Warfare Center
Major General Lester D. Eisner


Assistant Adjutant General - Army, SC National Guard
Major General Steven W. Smith


Director for the U.S. Army Cyberspace Task Force
Click
here
to download a registration form. Click
here
for online registration.
Click
here
to see the Conference agenda.
Providing a forum for professionals from the military, government, industry and academic fields, to discuss issues related to the requirements of IO/Cyber programs, platforms and operations, this unique conference is not to be missed. Hosted by SPAWAR in cooperation with the AOC Palmetto Roost, this event is classified SECRET/US only. Don't miss this key event.
More information...
Modeling and Simulation Conference Rescheduled for March 15-18, 2011
Due to ongoing operational commitments, DoD priorities and budgeting constraints, the "Training In The Contested Electromagnetic Battlespace of the 21st Century Conference" scheduled for November 2-4 in Las Vegas, NV, has been postponed. The new dates of the conference are March 15-18, 2011. We regret any inconvenience this postponement may cause.
Learn More...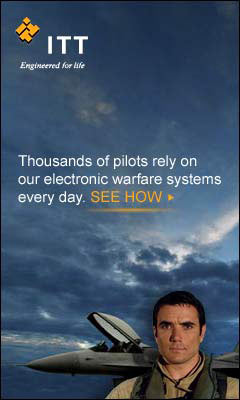 CTT, Inc.
At the Heart of Next Generation Electronic Defense Systems: 0.1-20 GHz LNAs, 0.2-100W PAs, Special Purpose Amplifiers, Contract Manufacturing.
http://www.cttinc.com
Assemblies, Inc.
25 years of manufacturing high performance microwave cable assemblies with low attenuation at frequencies up to 65 GHz.
http://www.assembliesinc.net
Clausewitz Technology
Buck Clemons is your answer for face-to-face marketing with the US Army and Redstone Arsenal communities. We specialize in Electronic Warfare and Army Aviation operations, both manned and unmanned.
http://www.clausewitztechnology.com