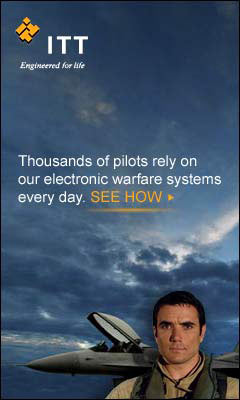 Industry News
Dueling Proposals for USAF Airborne Ground-Surveillence Intelligence Upgrade
Amid Pentagon belt-tightening, Boeing and Northrop Grumman are offering dueling proposals in an attempt to capture what limited funds the US Air Force may have to modernize its fleet of airborne ground-surveillance (AGS) intelligence collectors.
(Aviation Week)
Learn More...
Donley Calls for Fiscally Improved Air Force
The Air Force's top civilian today urged the service's leaders to make tough decisions now, as economic recovery continues to put defense spending under increasing pressure.
(Department of Defense)
Learn More...
AOC News
AOC Welcomes New Industry Member
Strategic Influence Alternatives of Valrico, FL, has joined the AOC as a consultant group member.
Learn more about joining the AOC
Find New Opportunities in the AOC Career Center
Visit the AOC Career Center and check out new jobs being posted every week. The AOC Career Center offers FREE and confidential résumé posting, job search control, easy job application, the ability to save jobs and much more. Visit AOC Career Center today and post your résumé!
Learn More...
Buy the Essentials of Electronic Warfare
Get the
Essentials of Electronic Warfare Book: What Every Crow Should Know
, which covers the entry-level knowledge for new Crows coming into the community. Books are $30. Order the EEW book on-line at the AOC Store or by calling the membership department at (703) 549-1600.
Learn More...
Post Employment Opportunities in the AOC Career Center at a Special Rate

For a limited time only, "The AOC Career Center," the Association of Old Crow's exclusive on-line employment network for the industry, is pleased to offer a special rate for Job Posting. For unlimited job postings from now until December 31, the rate for AOC Industry Members is
$500
and the rate for Non-Industry Members is $750. Don't miss a unique opportunity to save money AND find more qualified candidates! Visit the AOC Career Center at
http://jobs.crows.org
and register to post jobs today.
CTT, Inc.
At the Heart of Next Generation Electronic Defense Systems: 0.1-20 GHz LNAs, 0.2-100W PAs, Special Purpose Amplifiers, Contract Manufacturing.
http://www.cttinc.com
Assemblies, Inc.
25 years of manufacturing high performance microwave cable assemblies with low attenuation at frequencies up to 65 GHz.
http://www.assembliesinc.net
Clausewitz Technology
Buck Clemons is your answer for face-to-face marketing with the US Army and Redstone Arsenal communities. We specialize in Electronic Warfare and Army Aviation operations, both manned and unmanned.
http://www.clausewitztechnology.com