AOC ADVOCACY UPDATE: MOBILE NOW Act Unanimously Passes Through House
Print this Article | Send to Colleague
As Congress struggles to reach agreement on an FY 18 spending package before the current Continuing Resolution (CR) expires, leaders in both the House and Senate are looking for ways to fast track Spectrum reallocation legislation that would be a boon for the commercial wireless industry. But the devil is in the details as lawmakers continue to advance policy, most notably related to S. 19, the MOBILE NOW Act, based on an antiquated Spectrum allocation system and largely false narrative about challenges and requirements in the use of federally-owned Spectrum, especially for national security and military purpose
The MOBILE NOW Act, legislation seeking to expedite the reassignment and reallocation of federal spectrum (and certain non-federal spectrum, such as broadcast TV), was in the spotlight over the last several weeks, as the House moved forward with reauthorizing the Federal Communications Commission and participated in negotiations with the Senate to reach agreement on this issue either through stand-alone legislation or as part of a larger FY 18 spending package. The AOC has been tracking this issue closely over the past several years since S. 19 was first circulated as a discussion draft in late-2015. Over the last couple of years, S. 19 has improved dramatically through negotiation with federal agencies, most notably the Defense Department (DoD). Though far from perfect, the Senate passed S. 19 last August by unanimous consent, sending the bill to the House for its consideration. No further action took place until last month when the House Energy and Commerce Committee marked-up an FCC reauthorization bill, later titled H.R. 4986, the RAY BAUM'S Act, a bill in honor of the late Energy & Commerce staff director, who died in February. The bill stands for "Repack Airwaves Yielding Better Access for Users of Modern Services Act of 2018."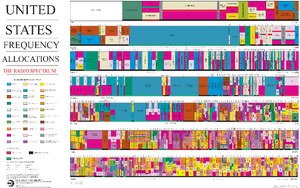 What caught the attention of the AOC is that this bill moved very quickly and quietly from Committee to the House floor despite the fact that Congress has failed to reauthorize the FCC since 1990 – more than 25 years ago. While it has been a legislative priority of the Congress for several years, there had been little progress. Furthermore, before the bill came to the House floor, leadership quietly changed language in the bill from what had been reported out of Committee a few weeks earlier. Most notably, the altered legislation included key provisions from the MOBILE NOW Act, which had passed the Senate last year. The Committee attempted to include these provisions in the February mark-up, but disagreements about the impact of this legislation on federal spectrum users, most notably for purposes of national defense, led the Committee to strip the language from the bill prior to Committee approval. This language was then quietly put back in by bi-partisan House leadership before the bill came to the floor for a vote (yes, congressional leadership has the authority to make any changes to legislation without notice and outside the normal committee process). H.R. 4986, including the MOBILE NOW Act, passed the House on March 6 by voice vote (the House equivalent to unanimous consent).
While the MOBILE NOW Act has changed dramatically for the better, it still represents merely a tenable solution. It is far from perfect and keeps us on a path that advances a commercial broadband agenda that fails to adequately consider or understand military and national security activities in the EMS.
Following AWS-3 in 2015, the bill requires at least 255 MHz in additional spectrum for mobile and fixed broadband. Two important negotiated revisions in the MOBILE NOW Act include credit toward that requirement of Spectrum made available by the FCC after February 11, 2016, and Spectrum identified pursuant to the reallocation deadlines under the Spectrum Pipeline Act of 2015 can be counted toward the requirements of this bill. Thus, there is an expectation that there will be no net new Spectrum targets from this bill. However, we remain concerned about the "at least" language because there is no requirement to limit the identification of new Spectrum to 225 MHz. There is also a clear prioritization of reallocation over new sharing technology under development.
Reallocation of Spectrum has cascading effects that we as a community do not yet fully understand. The passage of the MOBILE NOW Act is just the latest policy opportunity, but we can expect many more in the future. As a community, we have to do a better job of advancing our interests in the broadband conversation. This goes beyond the legislative process, but also throughout agency implementation. The MOBILE NOW Act leaves plenty of room for interpretation by the FCC that can ultimately move the legislation back in favor of the commercial wireless sector. It is still uncertain what final path the MOBILE NOW Act will follow to become law in the coming weeks, but what we do know is that both the House and Senate are on record as having overwhelmingly supported identical language calling for more Spectrum reallocation. As new rounds of legislation are already in the works to follow the MOBILE NOW Act, we must do a better job as a community of moving the needle toward a more balanced perspective of military/DoD participation in the Spectrum allocation system. – Ken Miller, Director, Advocacy and Outreach, AOC