Print this Article | Send to Colleague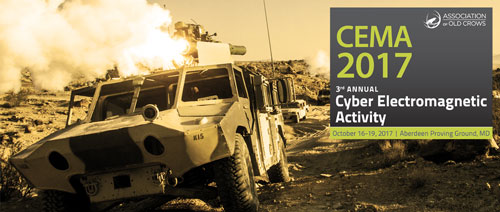 REGISTRATION NOW OPEN: 3rd Annual Cyber Electromagnetic Activity (CEMA) Conference, October 16-19
October 16-19, 2017 | Aberdeen Proving Ground, MD
"The Multi-Domain Battle: A Combined Arms Approach to Enabling Maneuver through CEMA Operations"

This conference has been approved by the Department of the Army.
Click here for a copy of the approval memo.
Agenda Now Available: Click here to view
This year's focus will be on the emerging Joint Army/USMC Multi-Domain Battle concept and the implications with respect to CEMA. The MDB entails a combined arms approach for ground combat operations against a sophisticated peer enemy threat in the 2025-2040 timeframe. Building on current service and joint doctrine, the MDB requires flexible and resilient ground formations that project combat power into the land, air, maritime, space, and cyberspace domains. It is a continued evolution of the combined arms methodology to include not only those capabilities of the physical domains, but places even greater emphasis on space, cyberspace, and other contested areas such as the EMS, the information environment, and the cognitive dimension of warfare. As for the role of CEMA in the MDB, it's about creating and exploiting exploit temporary windows of advantage in and presenting adversaries with multiple dilemmas in the spectrum across time/space with an intensity and duration of our choosing. Acknowledging that the world is very different now with more capable near-peer adversaries who are able to contest all physical domains as well as cyberspace, we need to recognize that and challenge the CEMA community of interest for novel, adaptive and innovative capability solutions in EW, Cyber, SIGINT and other related technology areas. This is just the nature of the current environment.
KEYNOTE SPEAKERS

Lieutenant General Rhett A. Hernandez, (Ret)
Former commander of the United States Army Cyber Command
Mr. Michael Wynne
Former 21st United States Secretary of the Air Force (invited)

MG John B. Morrison
Commanding Officer, US Cyber Center of Excellence (invited)
MG Randy Taylor
Commanding General, CECOM & APG



MG Kirk Vollmecke
Program Executive Officer for Intelligence, Electronic Warfare, and Sensors
Dr. William Conley, SES
Deputy Director, Office of the Under Secretary of Defense for Acquisition, Technology and Logistics (OUSD AT&L/A/) Tactical Warfare Systems
Mr. Robert Miele, SES
U.S. Army, Executive Technical Director/Deputy to the Commander, ATEC (invited)

Dr. Paul G. Zablocky
Division Director, Complex Hybrid Warfare Sciences Division, Expeditionary Maneuver Warfare and Combating Terrorism Science and Technology Department, Office of Naval Research
Register Now!
---