Print this Article | Send to Colleague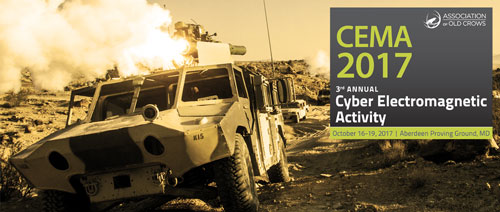 CALL FOR PRESENTATIONS: 3rd Annual Cyber Electromagnetic Activity (CEMA) Conference, October 16-19
October 16-19, 2017 | Aberdeen Proving Ground, MD
"The Multi-Domain Battle: A Combined Arms Approach to Enabling Maneuver through CEMA Operations"
This year's focus will be on the emerging Joint Army/USMC Multi-Domain Battle concept and the implications with respect to CEMA. The MDB entails a combined arms approach for ground combat operations against a sophisticated peer enemy threat in the 2025-2040 timeframe. Building on current service and joint doctrine, the MDB requires flexible and resilient ground formations that project combat power into the land, air, maritime, space, and cyberspace domains. It is a continued evolution of the combined arms methodology to include not only those capabilities of the physical domains, but places even greater emphasis on space, cyberspace, and other contested areas such as the EMS, the information environment, and the cognitive dimension of warfare. As for the role of CEMA in the MDB, it's about creating and exploiting exploit temporary windows of advantage in and presenting adversaries with multiple dilemmas in the spectrum across time/space with an intensity and duration of our choosing. Acknowledging that the world is very different now with more capable near-peer adversaries who are able to contest all physical domains as well as cyberspace, we need to recognize that and challenge the CEMA community of interest for novel, adaptive and innovative capability solutions in EW, Cyber, SIGINT and other related technology areas. This is just the nature of the current environment.
CALL FOR PRESENTATIONS: Due JULY 14
The CEMA 2017 conference committee is soliciting original papers from the United States and Five Eyes Nations, Government, Academia, Industry, Operators, and Subject Matter Experts to discuss current and emerging trends in Electronic Warfare, Cyber, Signals Intelligence, and Electromagnetic Spectrum Operations. Conference presentations may be classified TS/SCI US Only, Secret Releasable FVEYS or Unclassified//FOUO (please indicate which classification you are submitting for as we will have multiple sessions at various classification levels); however, abstracts must be unclassified.
All who attend will gain a better understanding with respect to current and future threats, emerging requirements, technological advances, policy, and potential opportunities for collaboration. You are invited to submit an abstract of presentation that align with the following topics:
1. Cyberspace Effects Cell – User Perspectives (17/29 series, and 25E only)
2. Emerging Threats, Capability Gaps, and Requirements
3. CEMA Contribution to the Multi-Domain Battle Concept
4. CEMA Programs and Acquisition Initiatives
5. Rapid Capabilities in Support of Urgent Needs
6. Warfighting Perspective
7. CEMA Science & Technology Trends
8. Experimentation, Exercises and Training
9. Joint, International and Industry Perspectives and Opportunities
10. Advanced Technology & Special Interest (TS/SCI)
Please forward abstracts Ms. Christine Armstrong at
armstrong@crows.org
by
14 July 2017.
Abstracts are limited to one page of text or 400 words.
Conference Details
---