Print this Article | Send to Colleague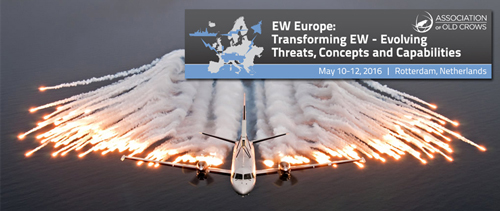 CALL FOR PAPERS: 16th Annual AOC Electronic Warfare Europe, May 10-12 in Rotterdam
"Transforming EW – Evolving Threats, Concepts and Capabilities"
As nations re-focus on contingency operations after over a decade of counter-insurgency, there are many challenges and opportunities for governments, the military, academia, science and technology and industry. Recent events have reminded everyone of the deadly nature of RF guided weaponry and that the threat from insurgents has not ended, but intensified. The widely reported use of wholesale, sophisticated Russian counter-C3 systems in and around Ukraine in parallel to cyber operations and widespread dis-information/psychological operations has given rise to what leading military and political thinkers refer to as Hybrid Warfare. The question is what does this mean for the future of EW in the free world? Almost all military operations are enabled by wide-ranging electromagnetic (EM) operations, a concept that NATO and others have fully embraced. These include SIGINT; C4ISR; precise navigation and timing; targeting; communications, spectrum management and the whole gamut of EW. But, are there new requirements for EW arising from hybrid warfare? The answer to the question then, is yes, a great deal, with an obvious example being EM-enabled cyber operations.
National forces are being re-shaped and re-equipped to face the future, which will be contested, congested, complex, connected, constrained and potentially chaotic unless the right informed choices are made now. AOC EW Rotterdam 2016 will consider the future of EW and EM Operations in the changing light of current and emerging threats, including Hybrid Warfare; it will consider the possible responses, how thinking and attitudes must change and examine the new capabilities that will be required across all lines of defence, by all services, in all countries. Part of the event will include twin-tracks focusing respectively on operations, capability and defence lines of development and industry developments and inventiveness. AOC EW Europe 2016 will once again bring together, this time in Rotterdam, perhaps the most happening and connected city in Europe right now, all the communities involved in EW, SIGINT, C4ISR, Cyber EM Activities (CEMA) and more. This is the largest global EW networking, exhibition, seminar and conference, outside of the U.S., and is not to be missed!
CALL FOR PAPERS
The time has now come to submit your paper for the conference at EW Europe 2016. This year's theme will focus on Transforming EW – Evolving Threats, Concepts and Capabilities, with the thesis of Hybrid Warfare and the Future of EW.
Potential Speakers are invited to note the conference sessions topics and specific areas of interest:
Keynote addresses.
Operational focus.
National perspectives.
Defensive and offensive capabilities.
Technological and engineering developments.
Future warfare – capability, integration and interoperability.
Critical EM lines of development such as training, test and evaluation, modelling and simulation, concepts, etc.
EW and EM operations, SIGINT, ISR, spectrum management, and network enabled capability.
The information domain/environment, information operations, cyber warfare, social media, etc.
Briefs on major programmes and capability development in the maritime, air/space, and land domains.
Specific contemporary EW/EM topics like countering UAVs and drones and directed energy & laser developments are sought.
The AOC is soliciting original unclassified English language papers for the Rotterdam conference from international leaders, military personnel, subject matter experts and leading thinkers from the government, military, academia and industry. Please contact the conference director, John Clifford (
clifford@crows.org
), if you are interested in speaking or want more information and provide the title of the proposed paper, a brief synopsis and information on the speaker. Company or product briefs will not be accepted. The deadline for submitting is close of business
Friday, 19 February 2016
but earlier is better.
Conference Details
---