Print this Article | Send to Colleague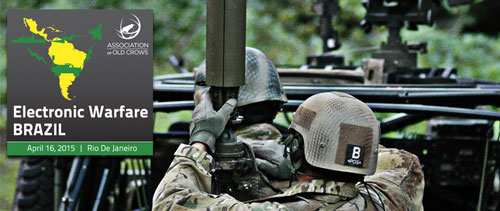 PLAN NOW TO ATTEND: AOC EW Brazil, April 16 in Rio de Janeiro
"Evolving Electronic Warfare in Latin America"
The AOC is planning to hold its inaugural AOC Latin America symposium during LAAD, Brazil, currently planned for April 16, 2015, in conjunction with our logistics partner and LAAD organizer, Clarion Events.
The conference language will be Portuguese and English.
EW Latin America 2015 will be attended by a wide range of leading military, government, academic and industrial leaders and thinkers from across the region and beyond. The inaugural symposium audience will include senior-serving military leaders and operators, security personnel, government officials, leading academics and world-class industry leaders, and will discuss the increasingly important field, in Latin America, of Electronic Warfare and associated Electromagnetic Operations (EMO), including signals intelligence, information operations, air platform protection, land EW operations, innovative maritime EW solutions, EW-capable UAVs, operational experience and advanced technology. Focus areas include:
• Keynote speakers
• Regional issues and factors
• EW capability and the maritime, land, air/space, electromagnetic and cyberspace operational environments; platform protection and situational awareness
• Operational experience and lessons
• Information operations, cyber and network enabled capability
• EW operational support and modelling and simulation
• EW Developments from Industry
• EW concepts and critical lines of capability development
• Related EM capabilities including C4ISR, SIGINT and Spectrum Management
In common with our other global events, an EW, EMO, SIGINT and associated C4ISR dedicated exhibition is being arranged by Clarion Events within the AOC Pavilion.
Symposium planning is being led the AOC Director Global Operations, Wing Commander John Clifford, OBE, RAF (Ret.), who can be contacted at
clifford@crows.org
.
Stay tuned to
www.crows.org
for more information.
---