Print this Article | Send to Colleague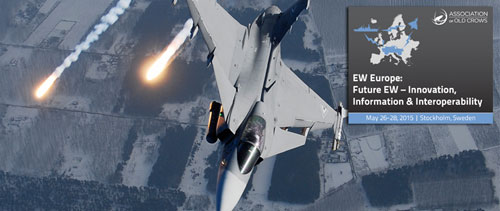 CALL FOR PAPERS: 15th Annual AOC Electronic Warfare Europe,
"Future EW – Innovation, Information & Interoperability"
May 26-28, 2015 | Stockholm, Sweden
As nations refocus on contingency operations after over a decade of counterinsurgency, there are many challenges and opportunities for governments, the military, academia, science and technology, and industry. Events in 2014 have reminded us of the deadly nature of RF-guided weaponry and that the counterinsurgency threat has not gone away, but intensified. Air attacks on IS terrorists in Syria and Iraq are inevitably enabled by the usual panoply of Electromagnetic (EM) operations: SIGINT, C4ISR, precise navigation and timing, targeting, communications, spectrum management and the whole gamut of EW. EM-enabled cyber operations are part of defeating terrorists, as well as state actors across the spectrum of warfare, starting with influence and counter-propaganda and most likely going much further.
National forces are being re-shaped and re-equipped to face the future, which will be contested, congested, complex, connected, constrained and potentially chaotic unless the right informed choices are made now. AOC EW Stockholm 2015 will look at future EW from three connected perspectives – innovation by industry, government agencies and academia, the importance of information (including cyber) and interoperability both of capabilities like EW, SIGINT and ISR and between services and partners in joint, combined and coalition operations.
Mark your calendars now for this premier AOC Global event!
Conference Details
CALL FOR PAPERS

The AOC is soliciting original unclassified English language papers for the Stockholm conference from international leaders, military personnel, subject matter experts and leading thinkers from the military, academia and industry. Please contact the conference director, John Clifford (
clifford@crows.org
), if you are interested in speaking or want more information and provide the title of the proposed paper, a brief synopsis and information on the speaker. Company or product briefs will not be accepted. The deadline for submitting is close of business
Friday, February 27, 2015
but earlier is better.
More Information
---