Print this Article | Send to Colleague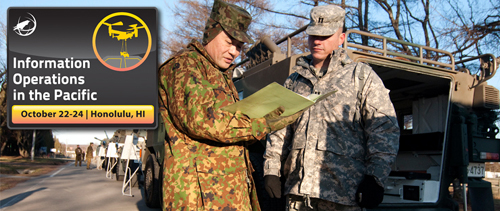 REGISTRATION IS NOW OPEN for 'Information Operations in the Pacific,' October 22-24 in Honolulu
This symposium examines the contested and congested information environment across the Pacific Region and discusses how multinational information operations can help shape conditions for continued stability and peace within the region. The conference will provide a venue for increased awareness of Asia-Pacific issues and an opportunity for networking, a multinational exchange of ideas and partnership building within the region.
Topics will include:
Asia-Pacific Challenges
Partnership Outreach
Intel Update: Asia-Pacific Threats
Information Operation in the Pacific Region
Impacts of Emerging Technology on Security
Nexus of Commerce, Diplomacy, Security and Human Migration
Open Source and Crowd-Source Solutions
Mapping the Human Terrain in Support of IO
Satellite Imaging of the Asia-Pacific Region
Opinion Research for Business
Training and Partnership Building Within the PACOM AOR
Learn More
HERE
.
PRESENTING SPONSOR


ANNUAL SPONSOR


---