Print this Article | Send to Colleague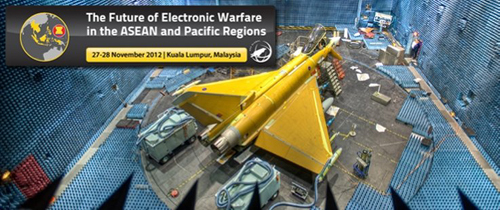 IN THREE WEEKS: The Future of Electronic Warfare in the ASEAN and Pacific Regions
Join the AOC and representatives from the ASEAN and Pacific regions responsible for operations, specification and procurement to discuss the latest developments in EW and related EM capabilities, such as ISTAR, communications and SIGINT across all warfighting domains.
An exciting lineup of international experts will be sharing their knowledge and experience ...
Welcome Address
Deputy Defense Minister Y.B. Datuk Dr. Abd. Latiff Ahmad
Keynote Address
Deputy Chief Royal Malaysian Air Force Lt. Gen. Datuk Roslan Saad
Opening Address
Air Chief Marshal Sir Glenn Torpy GCB CBE DSO RAF (Ret.)
Congested Contested EM Spectrum & EW
Wing Commander John Clifford OBE (Ret.), UK
Emerging Threat Considerations
Wayne Shaw III, USAF (Ret.), Vice President, AOC
Air Platform Protection & Survivability
Mr. Anton Kieck, SAAB, South Africa
New Radar Electronic Surveillance For Modern Environments
Mr. Richard Streeter, Head of Export Sales, Defence Mission Systems, Thales, UK
Operational Test & Evaluation of Counter RF-IED Jammers
Dr. Tom Millhouse, Nova Defense, RAAF Base Edinburgh, South Australia
Optimization & Evaluation of Receiver Search Strategies for Electronic Support
Flight Lt. Charles Winsor, RAAF
Surveillance Network Integrated Fitted for Radio (SNIFR) Development
Squadron Leader Fernando Gonzalez, RAAF
Intrepid Tiger 2 Briefing & OEF Operations
Maj. Kevin A Krespo, USMC Marine Aviation & Weapons Tactics Squadron One
USMC EW CONOPS
Capt. Michael Williams, USMC, USA
Role of Modeling & Simulation
Col. Chris Glaze USAF (Ret.), Third Wave Strategies, USA
Advances in Digital Receiver for Radar EW
Mr. Jaques Saget, Thales, France
Learn More...

---