Print this Article | Send to Colleague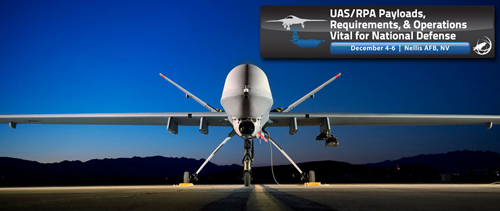 DATES JUST ANNOUNCED: 2012 UAS/RPA Payloads/Requirements/ Operations Conference, December 4-6 in Las Vegas!
This conference will explore current payloads and operations in ongoing day-to-day operations. We will discuss and identify short-term and long-term program requirements, identify capability gaps and help develop courses of action to address them.
Today, it is more important than ever to bring military, government, industry, academia and research labs together to ensure our military men and women have the tools and knowledge needed to be successful in tomorrow's battlespace. Both state-supported and non-state-supported adversaries' acquisition timeline is many times inside of the U.S. and our Allies timeline due to them using OTS equipment and utilizing the fast pace of technologies to improvise these products for use in the battlespace.
It is imperative for us to continue to identify current and future capabilities and gaps to develop courses of action utilizing each organizations' knowledge, technology, R&D and manpower.
Learn More...
---