Print this Article | Send to Colleague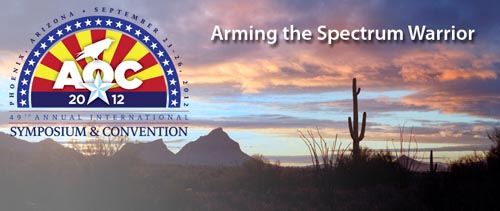 EARLY BIRD DEADLINE JULY 27! Register Now for the AOC Convention. Big Discounts for Young Crows.
Register now for the 49th Annual AOC International Symposium & Convention, "Arming the Spectrum Warrior," September 23-26 in Phoenix, AZ, and take advantage of early registration discounts.
To help bring young EMS warriors into the Crow family, we are offering discounted registration fees for first-time AOC convention attendees who are 35 years of age or younger by September 24, 2012. You must provide your date of birth at the time of registration and past attendance will be verified by AOC staff.
Register by July 27 and attend for only $300!
KEYNOTE SPEAKERS:

"Unveiling the Unified Command Plan for the EMS Warrior"
"Developing the Joint Force for 2020"
"Big Data. New Physics. The Ultimate 'Weak Signal' Detection Weapon"
"Imagining the Next Evolution of National Security"