Capitol Club Hosts Peter Huessy

Print this Article | Send to Colleague

October 14th marked the Capitol Club's Fall Town Hall meeting, where we reviewed the past year and revealed plans for the coming year.

President Bob Lindseth reviewed the past year's highlights and Program Chair Barry Fell gave us a peek at what he's planning in the way of speakers for the coming year. AOC National Vice President Laurie Buckhout spoke about the national convention in Atlanta and talked about the trends she's seeing in the EW world from the Army's standpoint.

The featured speaker of the evening was Peter Huessy, Senior Defense Associate of the National Defense University Foundation and president of Geostrategic Analysis, Inc. He kept the 70 or so Crows and guests in rapt attention as he spoke on the topic of Counter Proliferation in the Age of Jihad: Nuclear Threats, Terrorism and America's Security.

The crowd packed the historic back porch of the Army Navy Country Club, with uniformed members, industry and NATO attaches from Germany and Lithuania. Make sure you read the highlights in the next Capitol Club Crow Call on newsstands and your inbox in November. If you haven't been getting your newsletter, send your e-mail address to pvale@caci.com.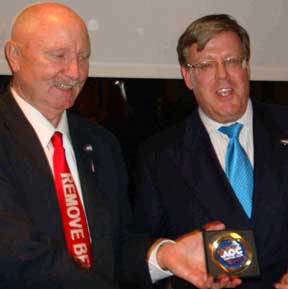 Capitol Club President Bob Lindseth presents AOC memento to Peter Huessy