Print this Article | Send to Colleague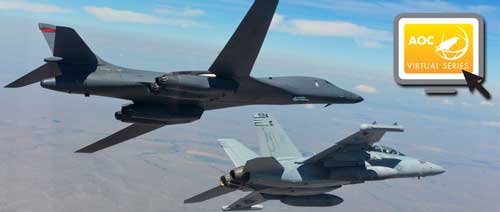 AOC VIRTUAL SERIES AUGUST 25: Modified Escort Jamming
Thursday, August 25 | 14:00-15:00 EST, 18:00 until 19:00 UTC
The presentation will start with a brief discussion of the capabilities of new threat radars: significantly longer ranges and powerful electronic protection features. It will cover the conventional jamming geometries we have been employing for years: self protection jamming and stand-off jamming. These techniques have difficulty providing adequate jamming protection against the new generation threat radars. Modified Escort Jamming is a new technique that can provide significant jamming to signal ratio, but requires careful station-keeping.
This webinar will provide some straight forward formulas for calculation of the station keeping requirements as a function of the ranges involved and the specifications of the threat radars. It also includes formulas for calculation of the J/S and burn through ranges achievable through this technique.
This and other considerations of dealing with new generation threat radars will be covered in the course Dave will be teaching on the Friday and Saturday following the 53rd Annual AOC International Symposium & Convention in Washington D.C.
Register Now
Platinum Sponsor


---