Print this Article | Send to Colleague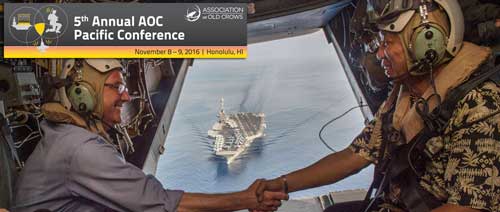 REGISTRATION NOW OPEN: 5th Annual AOC Pacific Conference, November 8-9, Honolulu
Challenges and Opportunities for IO/EW/Cyber in A2/AD Environments
The purpose of the symposium is to bring together government, military, industry, academia, small business and other stakeholders for discussions on the operational challenges facing the practitioners of these IRCs, and to explore possible technological and tactics/procedural solutions. To stimulate wider interest and inquiry into these issues, the symposium and related activities and events will be open to registration by government, industry and academia representatives without regard to their AOC membership status (both AOC members and non-members may register) except that access of foreign and any other persons may be restricted as necessary in accordance with applicable laws and regulations.
CALL FOR PRESENTATIONS
AOC is soliciting original unclassified English language papers for the 5th Pacific conference from international leaders, military personnel, subject matter experts and leading thinkers from the government, military, academia and industry. Potential Speakers are invited to note the conference sessions topics and specific areas of interest:
National perspectives on the IO, EMS and cyber aspects of overcoming A2/AD or countering Hybrid Warfare.
Historical perspectives of the application of IO to overcome anti-access strategies and to reach target audiences in denied environments
Analysis of current and potential threats to the U.S. and her Pacific Allies employing the integrated application of IRCs (IO) as a component of peacetime Hybrid Warfare
Analysis of adversary and potential adversary offensive cyber strategies for peacetime, crisis and conflict
Technological and engineering developments for enhanced Command and Control of the Information Environment
Technology solutions for monitoring the Information Environment for operations and assessment
Please contact the Symposium Chair, Arthur Tulak, COL USA, Ret, at
arthur.n.tulak.ctr@pacom.mil
if you are interested in speaking or want more information and provide the title of the proposed paper, a brief synopsis and information on the speaker. Company or product briefs will not be accepted. The deadline for submitting is close of business
Wednesday, 31 August 2016
, but earlier is better.
KEYNOTE SPEAKER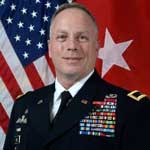 BG Richard K. Sele

Deputy Commanding General, U.S.
Army Civil Affairs and Psychological
Operations Command
(invited)
Call for Presentations and Conference Registration
---