Print this Article | Send to Colleague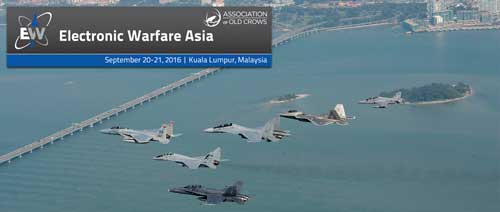 REGISTER NOW: Electronic Warfare Asia, September 20-21 in Kuala Lumpur
EW Asia returns to Kuala Lumpur to debate the ever-evolving challenges of this complex subject. Bringing together senior delegations from regional and international militaries, defence intelligence communities and scientific and research agencies EW Asia will showcase focused discussions and 'thought leader' presentations.
Southeast Asian countries need to be alert to the challenges involved in maintaining surveillance and intelligence superiority across the information domain space, thus ensuring the national security of their borders. Recent experiences of electronic warfare (EW) actions applied by Russia in Ukraine and Syria have demonstrated how crucial this domain is, particularly as such up-to-date and effective EW operations have not been experienced internationally for many years.
China's investment and gathering momentum in the expansion of its own military cyber and electronic warfare technologies presents serious challenges for Asian security services who believed that, until recently, they retained EM spectrum superiority.
An improved understanding of the complexity of these challenges being faced needs to be followed by the development of skill sets for defensive and, if necessary, offensive countermeasures.
Register Now
---