Print this Article | Send to Colleague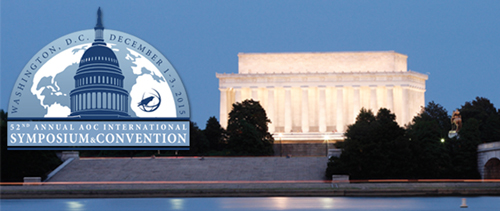 PLAN NOW TO ATTEND: 52nd Annual AOC International Symposium & Convention
"Synchronizing EW and Cyber to Achieve Spectrum Dominance
"
December 1-3, 2015
Electromagnetic Spectrum (EMS) Dominance in the future will require that we "Synchronize EW and Cyber to Achieve Spectrum Dominance." The Department of Defense, along with its industry partners, face an uncertain global security environment driven by adversaries who recognize that the EMS has become vital to the success of their campaigns. Adversaries are aggressively fielding electronic warfare systems and cyber systems/technologies that significantly erode DoD's ability to use and control the EMS while conducting military operations.
During this year's Symposium, we have 12 sessions set up to examine various aspects of the evolving EW and cyber strategic relationship and how they impact the EMS. We will start with reviewing how EW/cyber enable our military capabilities (sensor, weapons and networks) and permit us to dominate in Spectrum Maneuver Warfare Scenarios. We will also examine the underlying EW/cyber technology base and its implications for future warfighting capabilities. We will take a deep dive into key EW/cyber science and technology initiatives and review how these investment strategies are supported on Capitol Hill. Rapid transition of key EW/cyber technologies are critical, and they must be shared and organized with our joint and coalition partners. Cyber also plays a key role in the security and resilience of our Homeland Critical Infrastructure. This infrastructure in which redundancy, resilience and defensibility were never design characteristics is difficult to protect. Finally, resourcing and exploiting EW/cyber capabilities are vital for ensuring the tremendous investments we have in our software intensive C4ISR systems are protected.
Registration opens in July!
View the Preliminary Agenda
---