Print this Article | Send to Colleague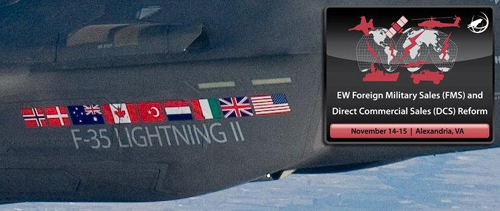 UPDATED AGENDA: EW Foreign Military Sales (FMS) and Direct Contract Sales (DCS) Reform, Nov. 14-15 in Alexandria, Va.
Other nations are eager to buy U.S. exports such as fighter jets, attack helicopters and unmanned aircraft. Expanding exports through Foreign Military Sales (FMS) offers substantial opportunities for U.S. industries.
Take advantage of this strategic event in the D.C. area and gain valuable insights into the technologies emerging on the worldwide stage and learn how best to position your business to take advantage of opportunities available through the FMS process.
Along with International, DoD and Industry perspective panels, topics include:
• Technology Security and Foreign Disclosure
• ITAR: Understanding and Working within Regulation
• Maintaining and Building Trust with Existing and New Partners for Global Security
• Academia Advances and Programs
• A DoD Perspective on the Future of EW
• Steps for Working Together Better
• Is There EW FMS Reform?
• Accessing the Current Environment: Approaches by the Obama Administration and Congress to Export Controls and Enforcement
Click Here for the Updated Agenda
Register Now
---