Print this Article | Send to Colleague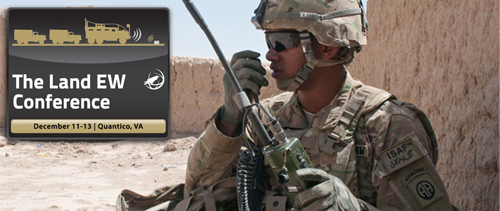 SHAPE THE BATTLEFIELD: Attend the AOC Land EW Conference, Dec. 11-13 in Quantico, Va.
Within many military circles, it is becoming more and more evident that the electromagnetic spectrum and its manipulation, with a variety of tool sets, will dictate the actions of commanders in the 21st century. Whether monitoring a ground radar or leading from an operations center, the increased attention revolving around cyberspace and activities associated with the information environment are warranted given their ability to manipulate a commander's perception of the battlefield. From an EMS perspective, the challenge is twofold: identifying the right technologies and then institutionalizing their use. Effective manipulation of the EMS requires that members clearly understand their roles and responsibilities so as to ensure spectrum activities support a commander's intent.
The AOC Land EW Conference provides focus on technological and organizational efforts, from land component perspective toward meeting these ends. Sessions and demonstrations provide evidence of how the U.S. and Allied services are implementing technology and changing organizational paradigms in order to manipulate the EMS environment.
Learn More...