Print this Article | Send to Colleague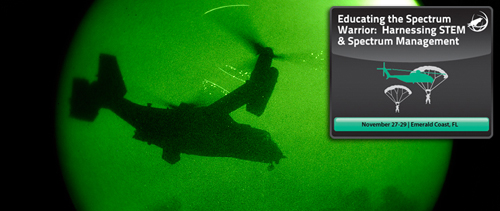 EDUCATING THE SPECTRUM WARRIOR: Attend the Harnessing STEM & Spectrum Management Conference this November in Florida!
Workforce projections
for 2014 by the U.S. Department of Labor show that 15 of the 20 fastest growing occupations require significant science or mathematics training to successfully compete for a job, while surveys find that fewer students are choosing to pursue advanced study in these areas.
This sobering statistic is forcing us to realize that we are going to have to do something to recruit and retain new spectrum warriors with these specialized skill sets.
STEM education is essential for the U.S. to remain the economic and technological leader of the 21st century global marketplace. The DoD has a long history of supporting STEM initiatives at local, regional and national levels, but we need your expertise to educate and participate in discussions addressing these relevant concerns.
Join us as we exchange information on the technical and operational aspects EW/EMSO, and ensure your future labor force is prepared via Science, Technology, Engineering and Mathematics (STEM) education. We aim to get government and military operations in Electromagnetic Spectrum (EMS) involved and talking with local and national businesses with a common passion for STEM programs and with an emphasis on supporting the warfighter.